GIVE
JOIN US, AND HELP US CHANGE LIVES
Throughout the Bible, it is evident to see that God wants us to experience the blessings available to us that come from generosity. When we choose to faithfully support the work God is doing, He is faithful in His promise to reward us so that we would have enough not only for our own needs, but for the needs of other people and the support of God's work here on earth too. 
 
When talking about generosity, it is usually in reference to tithing and the giving of our money. A tithe is the 10 % of our wages, that God has commanded is the part that we must give consistently to our local church, a godly way of ensuring that the work done in and by the church would be taken care of financially. Offerings are also additional good willed donations that can be given at any time. 
 
Malachi 3:8 tells us that by refusing to obey this command about tithes and offerings, given to us by God, we are essentially robbing Him. And in verse 10, God himself encourages us to "test" Him, and see if he will not bless us abundantly and take care of those who faithfully give. 
"Bring the whole tithe into the storehouse, that there may be food in my house. Test me in this,' says the Lord Almighty, 'and see if I will not throw open the floodgates of heaven and pour out so much blessing that there will not be room enough to store it." 
 
Let's be faithful in our giving, and trust Him with our tomorrow.
"

A generous person will prosper; whoever refreshes others will be refreshed.

"
Proverbs 11:25
GIVE ONLINE
Tai saugus internetinis mokėjimo būdas.
Paspaudę mygtuką "Noriu paremti" būsite nukreipti į "Paythru" sistemą, kur galėsite atlikti pervedimą.
Sėkmingam pervedimui reikalinga kreditinė ar debetinė kortelė. Minimali aukojimo suma – £5.

GIVT APP
Download the app GIVT and register.
To make a transfer, select Lithuanian CC (KT) London from the list or use the QR code below.
A successful transfer requires smartphone with internet, and credit or debit card for registration.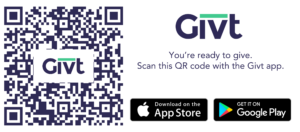 USE YOUR SMART PHONE
Send a text message to 64647 with the text CK454.
You will receive a link, through which you will then be redirected to "Paythru", where you can set up your details and make a payment.
In order for the payment to be successful, you will need to use a phone that is compatible with the internet as well as have access to a credit/debit card. Minimum donation: £2. Standard network text message rates apply.

BANK TRANSFER
NAME: ECKT Lithuanian Christian Church
BANK: Lloyds bank
BANK SORT CODE: 30-91-87
BANK ACCOUNT: 03788609
IBAN: GB85LOYD30918703788609
BIC: LOYDGB21054
SWIFT CODE: LOYDGB2L